Good Morning, Destroyer of Men's Souls: A Memoir of Women, Addiction, and Love (Hardcover)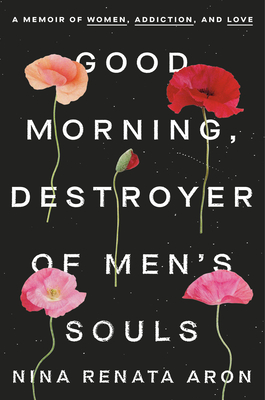 $27.00
Email or call for price.
Description
---
A scorching memoir of a love affair with an addict, weaving personal reckoning with psychology and history to understand the nature of addiction, codependency, and our appetite for obsessive love

"Ferocious . . . glints with hard-won truths . . . Aron lights a path through the darkness of her past toward a better future."—Los Angeles Times

NAMED ONE OF THE BEST BOOKS OF THE YEAR BY PARADE

"The disease he has is addiction," Nina Renata Aron writes of her boyfriend, K. "The disease I have is loving him." Their love affair is dramatic, urgent, overwhelming—an intoxicating antidote to the long, lonely days of early motherhood. Soon after they get together, K starts using again, and years of relapses and broken promises follow. Even as his addiction deepens, she stays, convinced she is the one who can get him sober. After an adolescence marred by family trauma and addiction, Nina can't help but feel responsible for those suffering around her. How can she break this pattern? If she leaves K, has she failed him?

Writing in prose at once unflinching and acrobatic, Aron delivers a piercing memoir of romance and addiction, drawing on intimate anecdotes as well as academic research to crack open the long-feminized and overlooked phenomenon of codependency. She shifts between visceral, ferocious accounts of her affair with K and introspective analyses of the part she plays in his addictions, as well as defining moments in the history of codependency, from the temperance movement to the formation of Al-Anon to more recent research in the psychology of addiction. Good Morning, Destroyer of Men's Souls is a blazing, bighearted book that illuminates and adds nuance to the messy tethers between femininity, enabling, and love.

Praise for Good Morning, Destroyer of Men's Souls

"Unflinching . . . Aron writes in gripping prose about the thrills and dangers of her own substance use and relationship with K—their weak-kneed passion and wolfish needs, as well as her guilt-ridden enabling and savior-complex optimism."—San Francisco Chronicle

"In Nina Renata Aron's scorching, unvarnished memoir, an addiction story gets spun from the perspective of the helpless partner, the lover too stuck in a dangerous dynamic to find her way out."—Entertainment Weekly

"A raw and eloquently unflinching memoir."—Kirkus Reviews
About the Author
---
Nina Renata Aron is a writer and editor living in Oakland, California. Her work has appeared in The New York Times, The New Republic, the Los Angeles Review of Books, and elsewhere.
Praise For…
---
"If 'co-dependency is a girl's song,' as Nina Renata Aron writes, her scorching memoir proves it can be a beautiful one, too. . . . Aron details the spiral, of screaming matches and vomit and things thrown across rooms. . . . A gritty tribute to the women who stick around too long."—David Canfield, Entertainment Weekly

"Aron's debut memoir unfurls her evocative story of falling in love with and upending her life over a man addicted to heroin. A searing sociohistorical excavation of codependency."—O: The Oprah Magazine

"Stunning . . . Reading it was like a first sip of water after a 20-mile run in the heat. . . . It shows us that addicts are more than statistics, their codependents more than "sniveling, whimpering, and brokenhearted." These are real people, rendered by Aron with eye-opening complexity and dynamism. In this book, the underrepresented and overlooked world of the codependent emerges from the bargain basement of self-help and shopworn homilies into the realm of love and loathing, birth and death, blood and urine. Into the realm, in other words, of the literary."—The Washington Post

"A disturbing, richly conveyed story of dysfunction and warped love . . . Aron's dark, gorgeously narrated memoir of destructive codependency will captivate readers."—Publishers Weekly (starred review)

"In Aron's candid and heart-wrenching memoir, the gnarled knots of love and addiction are untied and tangled and tied again. . . . Her compassion for victims of addiction never wavers, and her presentation of the addicted people in her life is dynamic and fair. A beautiful, nuanced portrait of living alongside addiction."—Booklist (starred review)

"A master class in memoir."—Shelf Awareness

"What a marvel this book is, that such a harrowing subject can be rendered with such tenderness. Any person who has ever put herself in harm's way for love will see herself in these pages."—Mary Beth Keane, New York Times bestselling author of Ask Again, Yes

"Balancing extensive research with dazzling, affecting prose, Good Morning, Destroyer of Men's Souls is both a whip-smart addition to the literature of addiction and an intimate look at the beating heart of codependency. I couldn't put it down."—Kimberly King Parsons, author of the National Book Award–nominated Black Light

"Good Morning, Destroyer of Men's Souls is for anyone touched by addiction, which is all of us. At turns wild and punk rock, redemptive and heartfelt, this book feels like the book I've always been looking for."—Chelsea Bieker, author of Godshot