The Alphabet Bomber: A Lone Wolf Terrorist Ahead of His Time (Hardcover)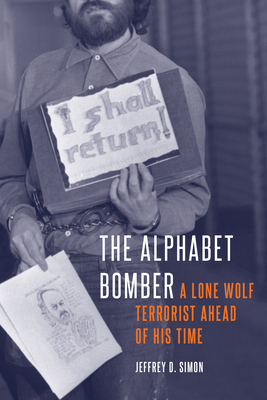 $29.95

Usually Ships in 1-5 Days
Description
---
On August 6, 1974, a bomb exploded at Los Angeles International Airport, killing three people and injuring thirty-five others. It was the first time an airport had been bombed anywhere in the world. A few days later, police recovered a cassette tape containing a chilling message: "This first bomb was marked with the letter A, which stands for Airport," said a voice. "The second bomb will be associated with the letter L, the third with the letter I, etc., until our name has been written on the face of this nation in blood."

In The Alphabet Bomber: A Lone Wolf Terrorist Ahead of His Time, internationally renowned terrorism expert Jeffrey D. Simon tells the gripping tale of Muharem Kurbegovic, a bright but emotionally disturbed Yugoslav immigrant who single-handedly brought Los Angeles to a standstill during the summer of 1974. He had conjured up the fictitious group "Aliens of America," but it was soon discovered that he acted alone in a one-man war against government and society.

The story of the Alphabet Bomber is about an extraordinary manhunt to find an elusive killer, a dogged prosecutor determined to bring him to justice, a pioneering female judge, and a devious mastermind whose heinous crimes foreshadowed the ominous threats we face today from lone wolf terrorists.
 
About the Author
---
Jeffrey D. Simon, PhD, is president of Political Risk Assessment Company Inc., a security and terrorism research consulting company, and is a former analyst for the RAND Corporation. He is the author of The Terrorist Trap: America's Experience with Terrorism and Lone Wolf Terrorism: Understanding the Growing Threat. He is a visiting lecturer in the Department of Political Science at UCLA; has been interviewed about terrorism on CNN, CBS Sunday Morning, FOX News Channel, MSNBC, and NPR; and has been quoted in the New York Times, the Washington Post, and the Los Angeles Times. His writings on terrorism have appeared in many publications, including the Journal of the American Medical Association and Foreign Policy. 
Praise For…
---
"Simon . . . delves into a fascinating, all-but-forgotten case. . . . A historical account of a unique form of terrorism that offers lessons for today."—Kirkus

"An account of one of the earliest manifestations of lone actor terrorism in the United States. . . . In addition to the author's detailed discussion of the case, the book is also noteworthy for its discussion of the lone actor terrorist phenomenon, including the use of psychological profiling techniques to analyze their characteristics."—Joshua Sinai, Perspectives on Terrorism

"The Alphabet Bomber: A Lone Wolf Terrorist Ahead of His Time provides readers an in-depth, biographical picture of Muharem Kurbegovic, an immigrant who felt his adopted country had rejected him resulting in his turning against the government in order to change the political climate regarding immigration and sex laws. Simon provides an excellent historical account which is backed up by empirical works and relevant interviews leading to a book scholars and students of terrorism studies should include in their readings. The insights Simon provides help move the debate regarding lone wolves forward and adds relevant and timely information."—Keith Ludwick, CBRNE Central

"Jeffrey Simon's nail-biting true drama about lone wolf Muharem Kurbegovic is not only a remarkable look into the disturbed mind of a single master of mayhem but a broader, compelling examination of what makes lone wolves the most concerning terrorist phenomenon we confront today. A must-read for all interested in the terrorist challenge ahead."—Bennett Ramberg, nuclear terrorist expert and author of Nuclear Power Plants as Weapons for the Enemy

"A must-read for Americans wanting an understanding of the lone terrorist and for law enforcement officials seeking to further their education and training in the complexities of identifying and hunting down lone wolf serial bombers and preventing the tragedies they bring about. Simon brings to life Muharem Kurbegovic who terrorized Los Angeles during the summer of 1974, with multiple terrorist attacks, including the targeting of Los Angeles International Airport. Simon develops the character of Kurbegovic in such rich detail, and in tandem with the fast moving drama generated by his pursuers at the LAPD, so that it doesn't take long for the reader to feel like he or she is in the middle of a current event inspired by today's headlines. I only wish we would have had the benefit of Simon's research and fact finding during the hunt for the Unabomber."—Terry D. Turchie, former deputy assistant director of the Counterterrorism Division of the FBI

"Most lone wolf terrorists end up 'one and done.' Public attention quickly fades after reports about the atrocity, the culprit, and his death. The story of the notorious Alphabet Bomber is dramatically different. Simon's book is a riveting and fascinating account of how an intelligent man perpetrated multiple attacks of increasing severity, used media outlets to relay threats of many more deaths if his demands were not met, taunted law enforcement trying to capture him, and after apprehension duped forensic psychiatrists, mocked everybody, and unleashed an arsenal of antics in a futile effort to sell that he was too crazy to be tried, found guilty, or punished."—Dinko Bozanich, retired Los Angeles County deputy district attorney and prosecutor of the Alphabet Bomber